Back from the Caribbean. I'll post on that later after I have the ELEVEN rolls of film developed.
Mum just sent over a set of pictures from my cousin Nikkie's wedding. I've only looked at one of Niki and I, thus far. It's the only one I'm interested in. This was her day and she looks very happy in this picture with me. It's a horrible picture, really. Mum was sitting right next to me and I'm twisting and leaning backwards, so that you can see Niki. She's trying to lean in and forward - which was not the easiest in her beautiful dress. Here's the pic.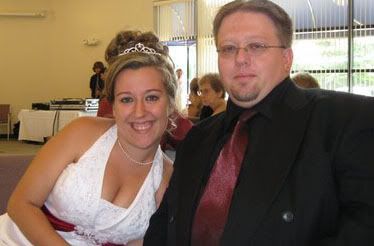 Anyways, on to the reason of the post.
You see, I believe that weddings are important. If you're lucky, you'll come across old friends, visit family you don't often get to visit, and you're helping to make someone's day a wonderful memory. Funerals are important, too, but usually much more depressing.
I love Niki, she's my only blood cousin.* I don't know her as well as I should, but everytime we see each other, we do lots of smiling, laughing, and comparing notes on which family members are making dumb decisions. She usually wins. Here's why.
The scene is a wedding near Columbus, Ohio, birthplace of this blogger. The day is sunny and warm, but not unbearingly hot. The cast includes:
My cousin, her parents, me mum, me mum's fiancee, me, my cousin's siblings, and a whole slew of people I don't know. The flowergirl is my cousin's daughter, all cute with her eyes bloodshot from refusing to sleep the night before. The ring bearer is my cousin's eldest brother's son.
My cousin's siblings' birth order is like this:
sister
brother one
brother two
brother three
And my cousin is the youngest. Her sister is the only other one married.
So, the wedding ceremony goes off. Niki appears to be happier than could be. The groom does well, but is obviously nervous. His name's Cameron. He seems like a good guy and his parents appear to be good folks.
While the ring bearer was brother one's son, brother one was
not
at the wedding ceremony. His girlfriend was, in an inappropriately short, jean miniskirt. As it turns out, brother one was getting his hair cut for the wedding and picking up his suit. Except, he didn't show up in the suit, rather in some new clothes he bought (crease lines still across the front of the stomach area of the shirt). He was also kind enough to take the new shirt off and display his t-shirt which bore an image of a comic strip character urinating on the logo of a type of car. I wasn't present for this, so I don't know which car logo was used.
He never put on the suit, even at the wedding reception.
Brother two was there, not wearing a suit. I don't know that he owns one, that's not the type of person he is. Up until recently, he'd been working as a bouncer at a local bar. His dress for the wedding was a pair of black pants and a dress shirt, barely tucked in and not with a suit coat or tie.
Remember, we're at his baby sister's wedding.
I called brother two out on this. His reasoning is as follows, he doesn't get out of work until 2:30am and didn't have time in the past two weeks to pick up some decent clothing. I asked him if there were any 24 hour stores like Miejer or WalMart near his house. He said there were. I then asked him why he didn't go to one of those places and pick up some clothing that would fit him better, as well as a suit or at least a tie. He told me he didn't have time, as he was very tired after work every night. Besides, his mother went out
the night before the wedding
and picked out some clothes she hoped would fit him.
You know, it's not like the mother of the bride to be doesn't have enough to worry over prior to her baby girl's wedding, is there?
Brother three was happy as could be, enjoyed the wedding and the folks there, was dressed for the occassion, and was fine.
The bride's mother took it all in and rolled with it. I'm sure she's used to some, if not all, of these hijinks. Same with eldest sister. The bride's father was dealing with other more important issues that don't matter to this post.
I was at the wedding, because I wanted to be there and because Niki wanted me to be there. I met up with other people while in town for the wedding. I did other things while there. I held better conversations and saw things more appropriate. I didn't let these bad things get in the way of helping to make Niki and Cameron's day something good to be remembered.
You see, I think weddings are important. I just wish everyone acted like they knew it.
* One of her older brothers is an adopted cousin.